Medical Services in Oakbrook Terrace

Looking for medical services in Oakbrook Terrace? Joint and muscle pain can interfere with your ability to work and perform everyday activities as well as sports and recreational pursuits. At Cordoba Health Group our specially-trained rehabilitation physicians (physiatrists) and therapists use the most effective techniques and the latest technologies to pinpoint the source of your joint or muscle pain, treat your symptoms and get you back into life - whether that be at work, in the home, or on the field.
Working along our other health practitioners, our medical physicians are specialists in the field of Physical Medicine and Rehabilitation, also known as a physiatry. They are experts in painful conditions from accidents, work injuries, and has extensive training in rehab from sports injuries and in improving quality of life through the diagnosis and management of painful conditions.
---
Physiatrists look at the big picture
The goal of a physiatrist is to restore physical function in patients with bone, muscle, or nerve injuries or diseases - everything from strokes and brain injuries to low back pain and knee stiffness. Physiatrists differ from other specialists because they focus on the entire body rather than just one organ, such as the heart. This head-to-toe approach can be particularly helpful for hard-to-diagnose problems like pain, which may be caused by anything from muscle strain to osteoarthritis. They often notice things that are usually overlooked.
---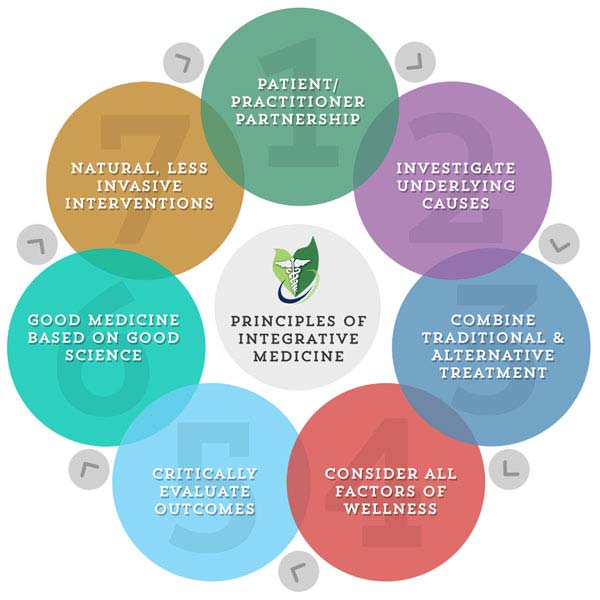 ---
Physiatrists offer non-surgical treatments
Physiatrists also emphasize non-surgical treatments, ranging from pain medications, steroid injections, strengthening exercises, stretching, and physical modalities. Just because you are told you have a herniated disc or arthritis in your knee doesn't mean you need surgery. Most patients with physical limitations can be treated with conservative approaches that have a lower risk for complications. And if you do need surgery, working with a physiatrist before and after can help speed your recovery.

---
Physiatrists offer highly personalized treatments
Whether arthritis keeps you from gardening or a knee injury has sidelined your daughter from the lacrosse team, a physiatrist creates a custom treatment plan to help you enjoy your favorite activities again. They restore physical function as it relates to each individual, whether that means going back to work, playing golf or getting out with the grandkids.

---
Integrative Care
Our physiatrists have an open-minded approach to alternative therapies and technologies that are evidence-based. They coordinate, on-site, with our other practitioners to provide you a comprehensive plan of care, including our chiropractors, acupuncturists, licensed massage therapists, and others. The comprehensive program combines medical, rehabilitation, and wellness services to provide the best possible care for each patient. Traditional medical treatments (medications, injections), rehabilitation interventions (bracing, exercise, physical modalities), and integrative techniques (acupuncture, meditation, bodywork) are linked together in a systematic wellness plan, to achieve the fullest recovery.

---
Our physiatrists treat many conditions, including:
Neck and back pain
Shoulder pain
Knee pain
Carpal Tunnel Syndrome
Sport injuries
Work and auto injuries
Fibromyalgia
Headaches
Chronic pain
Post-stroke recovery
Post-Head Injury recovery
Muscle Spasticity
OFFICE HOURS
---
Monday
9:30am - 5:00pm
---
Tuesday
9:30am - 1:00pm
3:00pm - 7:30pm
---
Wednesday
Closed
---
Thursday
9:30am - 5:00pm
---
Friday
9:30am - 12:00pm
---
Saturday
9:30am - 3:00pm